We specialise in the delivery of the highest-quality moving & handling training, education and consultancy to organisations and individuals throughout the UK.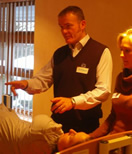 The LPS facilitation team are all qualified healthcare professionals, are Registered Members of the National Back Exchange (NBE) and experts in their fields.
Learn more about the LPS team and how LPS Training and Consultancy can support and protect your organisation.
Get our latest newsletter here.
Simon and Julia are both Registered Members of NBE and are
Professional Members of Backcare.